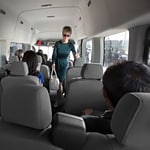 If you're on the hunt for a passenger wagon that won't leave you with an empty wallet all the time, then we've got quite the treat for you on our lot. The Ford Transit Passenger Wagon is one of the most fuel-efficient options on the market for a vehicle of its size. Not only will you have plenty of room for the entire family, but you can enjoy more drive-time on the road and less time searching for an affordable fill-up.
Along with the 31-gallon fuel tank, the Ford Transit also features a standard 10-speed transmission that offers better road handling than the previous 6-speed transmission option. This transmission allows the vehicle to perform more efficiently, including more smooth acceleration at low and mid ranges of the power band.
Each of the Ford Transit Passenger Wagon engine options has an available Auto Start and Stop feature that limits your emissions in the city and gives you even better fuel efficiency when you drive through Princeton, WV.