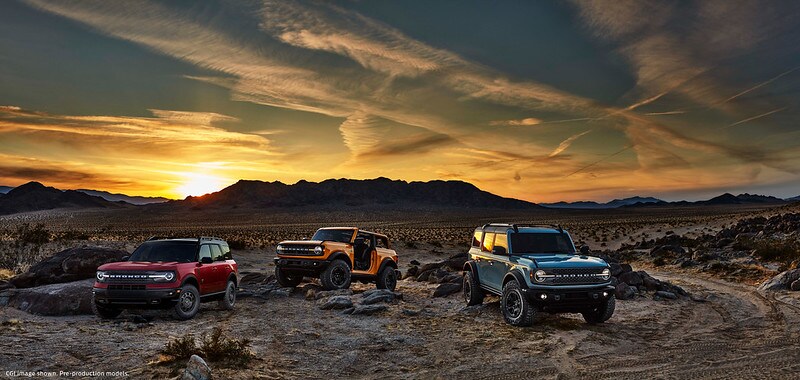 Leave it to Ford to revive a legend that the adventure-loving public has spent 25 years clamoring for - and deliver one of the most impressive off-road SUVs it's ever made. The 2022 Ford Bronco has bona fides like the North American Utility Vehicle of the Year™ backing up its place in history. But all the well-earned hardware in the world can't compare to the way it makes you feel when you get behind the wheel and put the pedal down. 
Push the boundaries, then push past them
When you've got an appetite for adventure, the 2022 Ford Bronco fills your plate. Every vehicle in the Bronco lineup comes with 4x4 capabilities, giving you the confidence and control you need to handle tough terrain. Building on that capability, the Bronco offers four levels of High-Performance Off-Road Stability Suspension Systems as well as the Terrain Management System™ with up to seven G.O.A.T. Modes™. 
For as incredible as the Bronco performs under duress, it's every bit as excitable when you're just out taking a leisurely cruise on the highway. Available with a trio of impressive engines, including a robust 2.7-liter EcoBoost® that puts down 330 horsepower and 415 lb-ft of torque, the Bronco is a thrilling SUV no matter where it is. 
Stunning looks
When you think of a Ford Bronco, a very particular idea comes into your mind. The 2022 Ford Bronco draws on the nostalgia for the classic with its boxy silhouette, flat bodysides, bold color options, and a one-piece grille that bears the legendary name right in the center. 
Part of that iconic Bronco image involves flexibility, and the Bronco delivers in droves. With your Ford Bronco two-door or four-door, you'll get features like a removable roof and removable class-exclusive frameless doors. Not only that, but the platform on which the Bronco was built is fully modular, which means it supports hundreds of Genuine Ford Accessories, Ford Performance Accessories, and Ford-supported third-party accessories. 
Inside the 2022 Ford Bronco, you'll find a space that's simple and rugged yet refined and elegant. With spacious seating for four or five people, the Bronco is the ultimate road trip vehicle for heading out to the woods, traveling through the desert, or hitting up the beach. However you get your kicks, the Bronco kicks hard with you. 
Intelligence to match the muscle
Sure, the 2022 Ford Bronco is a brawny, confident off-roader, but it doesn't lack for intellect. The new Bronco is equipped with high-end technologies to make sure that you always get exactly what you want out of your day's drive.
That starts with SYNC® 4, the advanced infotainment system that includes features like wireless Apple CarPlay® and Android Auto™. SYNC® 4 also offers voice recognition for hands-free control, Ford Power-Up over-the-air updates, and available built-in navigation.
The 2022 Ford Bronco is also a smart choice thanks to Ford Co-Pilot360™ Technology. This suite of driver-assist features includes tools to help you out in the wild like Hill Descent Control™ and an available 360-degree camera with unique tire views for better performance and rock crawling. 
Meet the newest Bronco models
For 2022, Ford isn't letting its foot off the gas with the Bronco. This year, the lineup grows with two amazing new trims: the Florida-inspired Everglades and ULTRA4 off-road race-inspired Bronco.
The former adds a unique, Ford-designed snorkel that improves air intake to help you push through dust storms, heavy snow, and deep water. Pair this with the Sasquatch™ Package, rock rails, a safari bar, and a ZEON 10-S WARN® winch with up to 10,000 pounds of capability, and the Bronco Everglades is ever-ready for action.
There's perhaps no Bronco more action-ready than the all-new Raptor. The most powerful street-legal Bronco ever made, the 2022 Ford Bronco Raptor boasts a twin-turbocharged 3.0-liter EcoBoost® V6 that puts out over 400 horsepower. It's still beasty off-road, too, thanks to its HOSS 4.0 System with Fox™ Live Valve 3.1 Internal Bypass Semi-Active Dampers. 
Looking to take things to the extreme? The 2022 Ford Bronco can help. Check out our current selection and arrange a test drive.