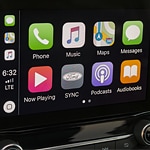 When you buy a Ford EcoSport, you'll always be able to stay connected. The new Ford EcoSport comes with a complimentary FordPass app that allows you to operate your vehicle and check for status updates from the comfort of your own couch. If you've never used an app like this before, stop by your friendly Princeton, WV Ramey Ford Princeton--we'd be happy to demonstrate.
Wondering if you'll have enough fuel to get to work in the morning? Instead of going outside at night and starting your vehicle, you can simply check the FordPass app to see your vehicle's fuel levels. You can also see if your vehicle needs an oil change any time soon.
Better yet, you can control your Ford EcoSport through the FordPass app. Start and stop the engine, lock and unlock the doors, and even schedule a time for your vehicle to start automatically. Plus, you can locate your vehicle if you forgot where you parked.