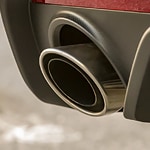 The Ford Mustang has long been recognized as one of the most popular sports cars ever made. It is still popular not only for its sporty and sleek good looks but also because of its impressive performance features. Find out what these features are and why they make the new Ford Mustang a great investment for your driving dollar.
What other sports car can you find that has a user-friendly gear dial? This dial lets you shift from one gear to the next without having to maneuver a manual gear shift or pull down hard on one that is automatic.
It also has an engine that can go from zero to 60 miles per hour in mere seconds. This sports car was made for performance and can easily handle going speeds that exceed those that you find in a two-door coupe. You can drive your Ford Mustang not only on city roads but also on long-distance highways.